Tag Archives: policies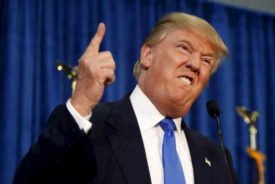 … the most revolutionary president in history.
Meritocracy Newsletter
Organizing locally and worldwide. Don't miss out on activism in your area!
FAQ
I was always taught that democracy is the only good political system. Why do you think we can improve on democracy?
The history of human beings is a history of advancement and social improvement. Every aspect…
Aren't the meritorious already running society?
Politicians don't have merit as leaders because they don't care about you and don't act…
If my inheritors don't deserve the inheritance, then why should anyone else (society, government)?
Meritocracy is about what you can do, not what people can do for you. Society deserves your…
If people aren't afraid of falling into poverty, what will stop them from slacking off and letting the economy suffer?
Research has shown that workers threatened by poverty are less creative, less engaged, and achieve…
Why should I have to pay for the kids of failed parents?
In a community based on equal opportunities, no family would show disrespect to other families…
My grandfather passed down his farm to us; are you saying 100% inheritance tax would take this away from our family?
Did your grandfather own 100% of the farm? What about your grandmother? What about your…
Isn't it a parent's responsibility and natural instinct to leave as much wealth and possessions to their children as they can?
"[If you are asking this question,] then you are plainly not a meritocrat. The Society…
Even with the millionaire inheritance tax, won't families still viciously compete because interfamilial competition is natural behavior?
The family feud is a destructive conflict spiral that eliminates any hope of healthy community.…
Does a Goldman Sachs trader who worked his way up from nothing, without ever getting parental help, count as meritorious?
A psychopath who knows how to lie, bully, and con people is not meritorious under…
The Soviet Union tried this, and it didn't work.
The Soviets tried something completely different that has no relation to 100% inheritance tax. 100%…
Isn't the state incompetent? How can an incompetent state help individuals achieve positive liberty?
The state is incompetent because democracy empowers idiots and cronies. Our political leadership is irredeemably…
Can't media propaganda just trick people into thinking that someone has merit, when he actually does not?
A meritorious person is elected by those qualified to judge merit for that specific position…
What about when a spouse dies? Are you going to kick the family out of the house?
Is this another one of those situations where the husband owns 100% of the family's…
Isn't it inevitable that the super-rich will ruin Meritocracy like they ruined democracy?
Over the long course of history, power has been transferred away from the dictators and…
Doesn't Meritocracy violate the sanctity of the free market?
There is no free market. The markets are completely captured—dominated by cartels of one sort…
Isn't Meritocracy undemocratic?
Democracy has failed to achieve the social goals that we all want. Democracy was an…
Doesn't government always make things worse?
The freedoms we currently enjoy came about because good people stood up and created better…
Doesn't Meritocracy assume that many more people have "the right stuff" to be leaders?
True leadership doesn't come from being born with a silver spoon in your mouth. A…