Archive | September, 2015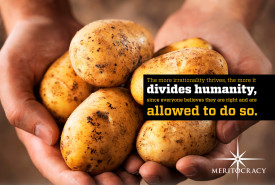 Meritocracy Newsletter
Organizing locally and worldwide. Don't miss out on activism in your area!
FAQ
Erbschaftsteuer FAQ (DE)
Ist es nicht meine Sache, zu entscheiden, was mit meinem Vermögen geschieht? 1100 Milliardäre besitzen…
Can't unscrupulous parents just give wealth to their kids before death, avoiding the inheritance tax? How will meritocracy handle legal loopholes?
Loopholes can be closed. It should be a crime for one family to accumulate dangerous…
Doesn't a millionaire inheritance tax infringe on the freedom of millionaires to do what they please with their wealth?
Real freedom is the opportunity for every child to develop his or her talents; when…
Even with the millionaire inheritance tax, won't families still viciously compete because interfamilial competition is natural behavior?
The family feud is a destructive conflict spiral that eliminates any hope of healthy community.…
What's so wrong about passing on wealth and connections to protect your kids from harm?
Why should you have to protect your kids from blue bloods? Why should parents accept…
Doesn't government always make things worse?
The freedoms we currently enjoy came about because good people stood up and created better…
Doesn't democracy use the wisdom of crowds to organically pick the best leaders?
The "wisdom of crowds" has debunked itself. The wisdom of crowds has brought us failure…
Won't Meritocrats just abuse their power and screw over the rest of society the way politicians and CEOs currently do?
If a particular expert abuses his position, the other people in his field will instantly…
Isn't it inevitable that the super-rich will ruin Meritocracy like they ruined democracy?
Over the long course of history, power has been transferred away from the dictators and…
Won't redistributing wealth to the poor perpetuate their poor use of resources?
Maybe this would be true if we just gave poor and uneducated people blank checks…
What about big government? Is Meritocracy going to shrink government?
No system is so simple that "just shrinking it" will automatically fix social issues. Fixing…
Imposto sobre herança FAQ (PT)
Não me cabe a mim determinar a utilização dos meus recursos? 1100 bilionários possuem o…
Can't media propaganda just trick people into thinking that someone has merit, when he actually does not?
A meritorious person is elected by those qualified to judge merit for that specific position…
Isn't love the answer? If we spread the power of love, won't that convince people to stop hoarding?
Humans tend to hoard because we worry about our families. If you do not hoard,…
Why is it so wrong that I want to take care of my family?
The best thing you can do for your family, and for the future generations, is…
What if I have no merit? Will I be excluded from politics?
If you didn't know how to drive, would you get behind the wheel of a…
Won't preventing inheritance undermine people's work ethic when parents are no longer able to save up for their kids?
The threat of your kids being disadvantaged might motivate you to work, but this kind…
FAQ meritocrației (RO)
Nu sunt meritorii deja cei care conduc societatea? Politicienii nu au merit ca lideri pentru…