Tag Archives: individuals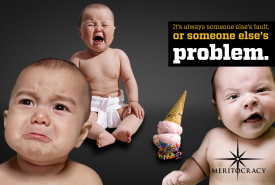 … but just the sweetest things when there's attention to be had.
Meritocracy Newsletter
Organizing locally and worldwide. Don't miss out on activism in your area!
FAQ
Won't preventing inheritance undermine people's work ethic when parents are no longer able to save up for their kids?
The threat of your kids being disadvantaged might motivate you to work, but this kind…
The Soviet Union tried this, and it didn't work.
The Soviets tried something completely different that has no relation to 100% inheritance tax. 100%…
Isn't it natural to pass wealth to children? How can any "system" stop natural behavior?
The purpose of every social system is to convert destructive natural behavior into productive artificial…
Inheritance Tax FAQ
Isn't it my choice to determine how I dispose of my assets? 1,100 billionaires have double the…
What if the government just wastes all the revenue from inheritance tax on pointless wars?
Do you really think meritocrats would have started the Iraq War? Almost every single independent…
Doesn't government always make things worse?
The freedoms we currently enjoy came about because good people stood up and created better…
What's so wrong about passing on wealth and connections to protect your kids from harm?
Why should you have to protect your kids from blue bloods? Why should parents accept…
Isn't technology and the complexity of life part of the problem? How will Meritocracy bring us back to our roots, instead of overwhelming us with techno-madness?
Techno-madness is a form of consumerism, where marketing departments spend millions convincing you to be…
Won't ending environmental destruction harm the economy?
What kind of sick society considers destroying the earth good for the economy? Can you…
How can a Meritocratic government turn docile sheep into empowered citizens?
Sheep can be enlightened. Meritocracy is designed to find the best educators in the country…
How does Meritocracy differ from all the other utopian schemes that were dangerous and harmful?
Charlatans use the promise of utopia to fool people. But Meritocracy is not a utopian…
What about when a spouse dies? Are you going to kick the family out of the house?
Is this another one of those situations where the husband owns 100% of the family's…
Won't getting rid of all government solve our problems?
Without government, there is only one law: the Law of the Jungle. The Law of…
Meritocracy FAQ
Aren't the meritorious already running society? Politicians don't have merit as leaders because they don't…
Why is it so wrong that I want to take care of my family?
The best thing you can do for your family, and for the future generations, is…
What would happen to a large business if the person who created it died suddenly? Who would become the owner if there were no spouse or children? Would the state be able to own businesses?
Bear in mind that most truly large businesses are corporations owned by shareholders. The death…
Doesn't Meritocracy violate the sanctity of the free market?
There is no free market. The markets are completely captured—dominated by cartels of one sort…
Isn't giving people free housing, education, and healthcare communist?
Communists also wore hats, ate sausage, and used cutlery. Does that make hats, sausages, and…