Tag Archives: general will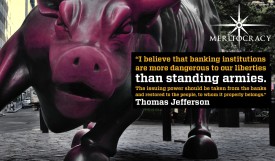 Super rich global capitalists live above the law. And then there's the rest of us.
Meritocracy Newsletter
Organizing locally and worldwide. Don't miss out on activism in your area!
FAQ
Isn't there a risk that splitting up psychological types will create a bunch of echo chambers, where people are denied valuable growth experience with other types?
People will still engage and cooperate with other types, but it will happen in a…
What about big government? Is Meritocracy going to shrink government?
No system is so simple that "just shrinking it" will automatically fix social issues. Fixing…
How does Meritocracy differ from all the other utopian schemes that were dangerous and harmful?
Charlatans use the promise of utopia to fool people. But Meritocracy is not a utopian…
What if I have no merit? Will I be excluded from politics?
If you didn't know how to drive, would you get behind the wheel of a…
Won't experts just vote for their own self-interest? What's to stop all the doctors from being corrupt and voting themselves more money?
Do you really think all doctors are corrupt? Or just an elite few who, by…
Isn't love the answer? If we spread the power of love, won't that convince people to stop hoarding?
Humans tend to hoard because we worry about our families. If you do not hoard,…
Meritokratia UKK
Eivätkö yhteiskuntaa johda jo nyt kaikista ansioituneimmat? Poliitikot eivät ole päteviä johtamaan koska he eivät…
Why should I have to pay for the kids of failed parents?
In a community based on equal opportunities, no family would show disrespect to other families…
Won't getting rid of all government solve our problems?
Without government, there is only one law: the Law of the Jungle. The Law of…
Isn't Meritocracy undemocratic?
Democracy has failed to achieve the social goals that we all want. Democracy was an…
What's so wrong about passing on wealth and connections to protect your kids from harm?
Why should you have to protect your kids from blue bloods? Why should parents accept…
Won't redistributing wealth to the poor perpetuate their poor use of resources?
Maybe this would be true if we just gave poor and uneducated people blank checks…
Isn't this just totalitarianism? 100% Inheritance tax infringes on my freedom.
When it comes to freedom and liberty there are two versions. There is on the…
Meritocracy FAQ (EU)
Ez al dute sozietatea meritudunek gidatzen jada? Politikariek ez dute meriturik leader bezala, ez dira…
Impuesto de sucesiones FAQ (ES)
¿No es mi elección determinar cómo disponer de mis bienes? 1,100 multimillonarios poseen el doble…
Even with the millionaire inheritance tax, won't families still viciously compete because interfamilial competition is natural behavior?
The family feud is a destructive conflict spiral that eliminates any hope of healthy community.…
What if the government just wastes all the revenue from inheritance tax on pointless wars?
Do you really think meritocrats would have started the Iraq War? Almost every single independent…
Most family fortunes were not earned through contributions to society, but don't you still think it is immoral to seize their wealth?
If someone builds a hoard by screwing people over, he hasn't earned anything. It is…