Tag Archives: campaign history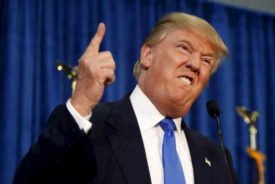 … the most revolutionary president in history.
Meritocracy Newsletter
Organizing locally and worldwide. Don't miss out on activism in your area!
FAQ
What about when a spouse dies? Are you going to kick the family out of the house?
Is this another one of those situations where the husband owns 100% of the family's…
Does Meritocracy care about equal representation?
The issue here is how you define equal representation. Meritocracy achieves equal representation where democracy…
Doesn't Meritocracy violate the sanctity of the free market?
There is no free market. The markets are completely captured—dominated by cartels of one sort…
How does Meritocracy differ from all the other utopian schemes that were dangerous and harmful?
Charlatans use the promise of utopia to fool people. But Meritocracy is not a utopian…
Isn't Meritocracy undemocratic?
Democracy has failed to achieve the social goals that we all want. Democracy was an…
Isn't love the answer? If we spread the power of love, won't that convince people to stop hoarding?
Humans tend to hoard because we worry about our families. If you do not hoard,…
Isn't there a risk that splitting up psychological types will create a bunch of echo chambers, where people are denied valuable growth experience with other types?
People will still engage and cooperate with other types, but it will happen in a…
Doesn't the Millionaire Estate Tax infringe on the freedom of millionaires to do what they please with their wealth?
Real freedom is when every child has the opportunity to develop his or her talents;…
Isn't it my choice to determine how I dispose of my assets?
1,100 billionaires have double the assets of the world's poorest 2.5 billion people. The vast…
Doesn't democracy use the wisdom of crowds to organically pick the best leaders?
The "wisdom of crowds" has debunked itself. The wisdom of crowds has brought us failure…
Meritokratie FAQ (DE)
Wird die Gesellschaft denn nicht bereits von verdienstvollen Persönlichkeiten geführt? Politiker haben keine Verdienste als…
Inheritance Tax FAQ (EU)
Ez al da nire erabakia nire ondasunekin zer egiten dudan determinatzea? 1,100 bilionarik munduko 2.5…
What's so wrong about passing on wealth and connections to protect your kids from harm?
Why should you have to protect your kids from blue bloods? Why should parents accept…
If my inheritors don't deserve the inheritance, then why should anyone else (society, government)?
Meritocracy is about what you can do, not what people can do for you. Society deserves your…
Don't you think innovators like Henry Ford, Steve Jobs, and Thomas Edison earned their fortunes?
They did earn their wealth, but then they died. Their kids didn't earn anything. Is…
What if I have no merit? Will I be excluded from politics?
If you didn't know how to drive, would you get behind the wheel of a…
Won't getting rid of all government solve our problems?
Without government, there is only one law: the Law of the Jungle. The Law of…
Doesn't government always make things worse?
The freedoms we currently enjoy came about because good people stood up and created better…