Tag Archives: religion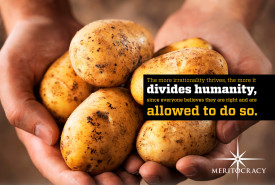 Meritocracy Newsletter
Organizing locally and worldwide. Don't miss out on activism in your area!
FAQ
Isn't this just totalitarianism? 100% Inheritance tax infringes on my freedom.
When it comes to freedom and liberty there are two versions. There is on the…
Doesn't inheritance tax act as a tax on already taxed goods?
This shows a gross misunderstanding of the tax system. The price of an estate on…
Isn't giving people free housing, education, and healthcare communist?
Communists also wore hats, ate sausage, and used cutlery. Does that make hats, sausages, and…
Doesn't Meritocracy assume that many more people have "the right stuff" to be leaders?
True leadership doesn't come from being born with a silver spoon in your mouth. A…
Meritocracia FAQ (ES)
¿No son los Meritorios quienes ya dirigen a la sociedad? Los Políticos no tienen mérito…
Does Meritocracy care about equal representation?
The issue here is how you define equal representation. Meritocracy achieves equal representation where democracy…
Won't redistributing wealth to the poor perpetuate their poor use of resources?
Maybe this would be true if we just gave poor and uneducated people blank checks…
Isn't it my choice to determine how I dispose of my assets?
1,100 billionaires have double the assets of the world's poorest 2.5 billion people. The vast…
If people aren't afraid of falling into poverty, what will stop them from slacking off and letting the economy suffer?
Research has shown that workers threatened by poverty are less creative, less engaged, and achieve…
Most family fortunes were not earned through contributions to society, but don't you still think it is immoral to seize their wealth?
If someone builds a hoard by screwing people over, he hasn't earned anything. It is…
If I won't get to vote for President, what role will I play in shaping my government?
What is your area of expertise? Meritocracy empowers you to make important governmental decisions where…
Don't you think innovators like Henry Ford, Steve Jobs, and Thomas Edison earned their fortunes?
They did earn their wealth, but then they died. Their kids didn't earn anything. Is…
What if I want to pass my business on to my son whom I've trained from birth to run it?
What system would you design to find the most meritorious CEO to replace you? Why…
Won't preventing inheritance undermine people's work ethic when parents are no longer able to save up for their kids?
The threat of your kids being disadvantaged might motivate you to work, but this kind…
Impuesto de sucesiones FAQ (ES)
¿No es mi elección determinar cómo disponer de mis bienes? 1,100 multimillonarios poseen el doble…
Isn't government corrupt, inept, and inefficient, and would it not therefore fail to put my hard-earned assets to good use?
One must remember that the Millionaire Death Tax and 100% Inheritance Tax are not stand-alone…
What would happen to a large business if the person who created it died suddenly? Who would become the owner if there were no spouse or children? Would the state be able to own businesses?
Bear in mind that most truly large businesses are corporations owned by shareholders. The death…
Isn't it a parent's responsibility and natural instinct to leave as much wealth and possessions to their children as they can?
"[If you are asking this question,] then you are plainly not a meritocrat. The Society…