Tag Archives: plutocrats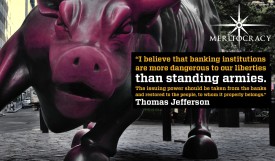 Super rich global capitalists live above the law. And then there's the rest of us.
Meritocracy Newsletter
Organizing locally and worldwide. Don't miss out on activism in your area!
FAQ
I was always taught that democracy is the only good political system. Why do you think we can improve on democracy?
The history of human beings is a history of advancement and social improvement. Every aspect…
Doesn't inheritance tax act as a tax on already taxed goods?
This shows a gross misunderstanding of the tax system. The price of an estate on…
Can't unscrupulous parents just give wealth to their kids before death, avoiding the inheritance tax? How will meritocracy handle legal loopholes?
Loopholes can be closed. It should be a crime for one family to accumulate dangerous…
Perintöverotus UKK
Eikö omaisuuteni jakaminen ole oma asiani? 1100 miljardööriä omistaa kaksi kertaa niin paljon kuin maailman…
Won't getting rid of all government solve our problems?
Without government, there is only one law: the Law of the Jungle. The Law of…
What if I have no merit? Will I be excluded from politics?
If you didn't know how to drive, would you get behind the wheel of a…
Doesn't the Millionaire Estate Tax infringe on the freedom of millionaires to do what they please with their wealth?
Real freedom is when every child has the opportunity to develop his or her talents;…
The Soviet Union tried this, and it didn't work.
The Soviets tried something completely different that has no relation to 100% inheritance tax. 100%…
Aren't the meritorious already running society?
Politicians don't have merit as leaders because they don't care about you and don't act…
What if the government just wastes all the revenue from inheritance tax on pointless wars?
Do you really think meritocrats would have started the Iraq War? Almost every single independent…
Won't ending environmental destruction harm the economy?
What kind of sick society considers destroying the earth good for the economy? Can you…
Didn't economists cause the 2008 financial crisis? Won't Meritocracy just put the country in the hands of fraudulent experts like this?
The frauds who caused the 2008 crisis were not meritorious experts; they were privileged cronies…
Doesn't democracy use the wisdom of crowds to organically pick the best leaders?
The "wisdom of crowds" has debunked itself. The wisdom of crowds has brought us failure…
Doesn't government always make things worse?
The freedoms we currently enjoy came about because good people stood up and created better…
My grandfather passed down his farm to us; are you saying 100% inheritance tax would take this away from our family?
Did your grandfather own 100% of the farm? What about your grandmother? What about your…
Isn't it my choice to determine how I dispose of my assets?
1,100 billionaires have double the assets of the world's poorest 2.5 billion people. The vast…
Don't you think innovators like Henry Ford, Steve Jobs, and Thomas Edison earned their fortunes?
They did earn their wealth, but then they died. Their kids didn't earn anything. Is…
What about big government? Is Meritocracy going to shrink government?
No system is so simple that "just shrinking it" will automatically fix social issues. Fixing…