Tag Archives: pillar pox wars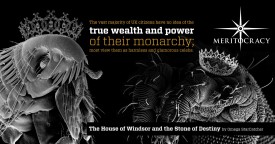 Unseat these pampered freeloaders.
Meritocracy Newsletter
Organizing locally and worldwide. Don't miss out on activism in your area!
FAQ
Won't preventing inheritance undermine people's work ethic when parents are no longer able to save up for their kids?
The threat of your kids being disadvantaged might motivate you to work, but this kind…
My grandfather passed down his farm to us; are you saying 100% inheritance tax would take this away from our family?
Did your grandfather own 100% of the farm? What about your grandmother? What about your…
Isn't love the answer? If we spread the power of love, won't that convince people to stop hoarding?
Humans tend to hoard because we worry about our families. If you do not hoard,…
What if the government just wastes all the revenue from inheritance tax on pointless wars?
Do you really think meritocrats would have started the Iraq War? Almost every single independent…
Can't media propaganda just trick people into thinking that someone has merit, when he actually does not?
A meritorious person is elected by those qualified to judge merit for that specific position…
Won't experts just vote for their own self-interest? What's to stop all the doctors from being corrupt and voting themselves more money?
Do you really think all doctors are corrupt? Or just an elite few who, by…
Meritocracia FAQ (ES)
¿No son los Meritorios quienes ya dirigen a la sociedad? Los Políticos no tienen mérito…
What if I want to pass my business on to my son whom I've trained from birth to run it?
What system would you design to find the most meritorious CEO to replace you? Why…
If people aren't afraid of falling into poverty, what will stop them from slacking off and letting the economy suffer?
Research has shown that workers threatened by poverty are less creative, less engaged, and achieve…
Meritokratie FAQ (DE)
Wird die Gesellschaft denn nicht bereits von verdienstvollen Persönlichkeiten geführt? Politiker haben keine Verdienste als…
Isn't government corrupt, inept, and inefficient, and would it not therefore fail to put my hard-earned assets to good use?
One must remember that the Millionaire Death Tax and 100% Inheritance Tax are not stand-alone…
Isn't the state incompetent? How can an incompetent state help individuals achieve positive liberty?
The state is incompetent because democracy empowers idiots and cronies. Our political leadership is irredeemably…
How can a Meritocratic government turn docile sheep into empowered citizens?
Sheep can be enlightened. Meritocracy is designed to find the best educators in the country…
Doesn't Meritocracy assume that many more people have "the right stuff" to be leaders?
True leadership doesn't come from being born with a silver spoon in your mouth. A…
What about when a spouse dies? Are you going to kick the family out of the house?
Is this another one of those situations where the husband owns 100% of the family's…
Doesn't Meritocracy violate the sanctity of the free market?
There is no free market. The markets are completely captured—dominated by cartels of one sort…
Doesn't democracy use the wisdom of crowds to organically pick the best leaders?
The "wisdom of crowds" has debunked itself. The wisdom of crowds has brought us failure…
Don't you think innovators like Henry Ford, Steve Jobs, and Thomas Edison earned their fortunes?
They did earn their wealth, but then they died. Their kids didn't earn anything. Is…