Tag Archives: monuments celtiques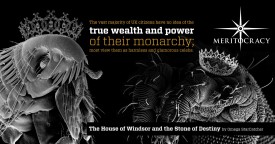 Unseat these pampered freeloaders.
Meritocracy Newsletter
Organizing locally and worldwide. Don't miss out on activism in your area!
FAQ
Won't Meritocrats just abuse their power and screw over the rest of society the way politicians and CEOs currently do?
If a particular expert abuses his position, the other people in his field will instantly…
Won't ending environmental destruction harm the economy?
What kind of sick society considers destroying the earth good for the economy? Can you…
Why is it so wrong that I want to take care of my family?
The best thing you can do for your family, and for the future generations, is…
What about big government? Is Meritocracy going to shrink government?
No system is so simple that "just shrinking it" will automatically fix social issues. Fixing…
Won't experts just vote for their own self-interest? What's to stop all the doctors from being corrupt and voting themselves more money?
Do you really think all doctors are corrupt? Or just an elite few who, by…
If my inheritors don't deserve the inheritance, then why should anyone else (society, government)?
Meritocracy is about what you can do, not what people can do for you. Society deserves your…
Even with the millionaire inheritance tax, won't families still viciously compete because interfamilial competition is natural behavior?
The family feud is a destructive conflict spiral that eliminates any hope of healthy community.…
Isn't it natural to pass wealth to children? How can any "system" stop natural behavior?
The purpose of every social system is to convert destructive natural behavior into productive artificial…
Can't media propaganda just trick people into thinking that someone has merit, when he actually does not?
A meritorious person is elected by those qualified to judge merit for that specific position…
Isn't love the answer? If we spread the power of love, won't that convince people to stop hoarding?
Humans tend to hoard because we worry about our families. If you do not hoard,…
Isn't the state incompetent? How can an incompetent state help individuals achieve positive liberty?
The state is incompetent because democracy empowers idiots and cronies. Our political leadership is irredeemably…
My grandfather passed down his farm to us; are you saying 100% inheritance tax would take this away from our family?
Did your grandfather own 100% of the farm? What about your grandmother? What about your…
Isn't there a risk that splitting up psychological types will create a bunch of echo chambers, where people are denied valuable growth experience with other types?
People will still engage and cooperate with other types, but it will happen in a…
Does a Goldman Sachs trader who worked his way up from nothing, without ever getting parental help, count as meritorious?
A psychopath who knows how to lie, bully, and con people is not meritorious under…
What if the government just wastes all the revenue from inheritance tax on pointless wars?
Do you really think Meritocrats would have started the Iraq War? Almost every single independent…
FAQ meritocrației (RO)
Nu sunt meritorii deja cei care conduc societatea? Politicienii nu au merit ca lideri pentru…
Doesn't inheritance tax act as a tax on already taxed goods?
This shows a gross misunderstanding of the tax system. The price of an estate on…
Won't preventing inheritance undermine people's work ethic when parents are no longer able to save up for their kids?
The threat of your kids being disadvantaged might motivate you to work, but this kind…