Tag Archives: lord green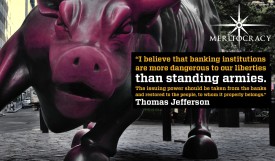 Super rich global capitalists live above the law. And then there's the rest of us.
Meritocracy Newsletter
Organizing locally and worldwide. Don't miss out on activism in your area!
FAQ
Doesn't Meritocracy assume that many more people have "the right stuff" to be leaders?
True leadership doesn't come from being born with a silver spoon in your mouth. A…
Why do you think throwing money at education will improve it?
Research has exposed the classroom system as archaic; the school system has failed to adapt…
Won't ending environmental destruction harm the economy?
What kind of sick society considers destroying the earth good for the economy? Can you…
If people aren't afraid of falling into poverty, what will stop them from slacking off and letting the economy suffer?
Research has shown that workers threatened by poverty are less creative, less engaged, and achieve…
What about when a spouse dies? Are you going to kick the family out of the house?
Is this another one of those situations where the husband owns 100% of the family's…
Won't redistributing wealth to the poor perpetuate their poor use of resources?
Maybe this would be true if we just gave poor and uneducated people blank checks…
Even with the millionaire inheritance tax, won't families still viciously compete because interfamilial competition is natural behavior?
The family feud is a destructive conflict spiral that eliminates any hope of healthy community.…
Isn't it inevitable that the super-rich will ruin Meritocracy like they ruined democracy?
Over the long course of history, power has been transferred away from the dictators and…
Erbschaftsteuer FAQ (DE)
Ist es nicht meine Sache, zu entscheiden, was mit meinem Vermögen geschieht? 1100 Milliardäre besitzen…
Isn't love the answer? If we spread the power of love, won't that convince people to stop hoarding?
Humans tend to hoard because we worry about our families. If you do not hoard,…
Don't you think innovators like Henry Ford, Steve Jobs, and Thomas Edison earned their fortunes?
They did earn their wealth, but then they died. Their kids didn't earn anything. Is…
If we want better government, why don't we just vote for better schools, honest media, more effective healthcare, etc.?
The simple fact is, we don't have the power to vote for these things. Even…
What would happen to a large business if the person who created it died suddenly? Who would become the owner if there were no spouse or children? Would the state be able to own businesses?
Bear in mind that most truly large businesses are corporations owned by shareholders. The death…
I was always taught that democracy is the only good political system. Why do you think we can improve on democracy?
The history of human beings is a history of advancement and social improvement. Every aspect…
If my inheritors don't deserve the inheritance, then why should anyone else (society, government)?
Meritocracy is about what you can do, not what people can do for you. Society deserves your…
Can't unscrupulous parents just give wealth to their kids before death, avoiding the inheritance tax? How will meritocracy handle legal loopholes?
Loopholes can be closed. It should be a crime for one family to accumulate dangerous…
What if I have no merit? Will I be excluded from politics?
If you didn't know how to drive, would you get behind the wheel of a…
Isn't there a risk that splitting up psychological types will create a bunch of echo chambers, where people are denied valuable growth experience with other types?
People will still engage and cooperate with other types, but it will happen in a…