Tag Archives: diversity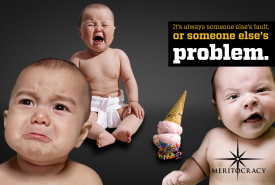 … but just the sweetest things when there's attention to be had.
Meritocracy Newsletter
Organizing locally and worldwide. Don't miss out on activism in your area!
FAQ
Won't experts just vote for their own self-interest? What's to stop all the doctors from being corrupt and voting themselves more money?
Do you really think all doctors are corrupt? Or just an elite few who, by…
Isn't it a parent's responsibility and natural instinct to leave as much wealth and possessions to their children as they can?
"[If you are asking this question,] then you are plainly not a meritocrat. The Society…
Don't you think innovators like Henry Ford, Steve Jobs, and Thomas Edison earned their fortunes?
They did earn their wealth, but then they died. Their kids didn't earn anything. Is…
Why should I have to pay for the kids of failed parents?
In a community based on equal opportunities, no family would show disrespect to other families…
What if I want to pass my business on to my son whom I've trained from birth to run it?
What system would you design to find the most meritorious CEO to replace you? Why…
Won't preventing inheritance undermine people's work ethic when parents are no longer able to save up for their kids?
The threat of your kids being disadvantaged might motivate you to work, but this kind…
Doesn't democracy use the wisdom of crowds to organically pick the best leaders?
The "wisdom of crowds" has debunked itself. The wisdom of crowds has brought us failure…
Isn't there a risk that splitting up psychological types will create a bunch of echo chambers, where people are denied valuable growth experience with other types?
People will still engage and cooperate with other types, but it will happen in a…
Can't unscrupulous parents just give wealth to their kids before death, avoiding the inheritance tax? How will meritocracy handle legal loopholes?
Loopholes can be closed. It should be a crime for one family to accumulate dangerous…
My grandfather passed down his farm to us; are you saying 100% inheritance tax would take this away from our family?
Did your grandfather own 100% of the farm? What about your grandmother? What about your…
What if the government just wastes all the revenue from inheritance tax on pointless wars?
Do you really think meritocrats would have started the Iraq War? Almost every single independent…
Isn't giving people free housing, education, and healthcare communist?
Communists also wore hats, ate sausage, and used cutlery. Does that make hats, sausages, and…
Most family fortunes were not earned through contributions to society, but don't you still think it is immoral to seize their wealth?
If someone builds a hoard by screwing people over, he hasn't earned anything. It is…
Isn't government corrupt, inept, and inefficient, and would it not therefore fail to put my hard-earned assets to good use?
One must remember that the Millionaire Death Tax and 100% Inheritance Tax are not stand-alone…
Won't redistributing wealth to the poor perpetuate their poor use of resources?
Maybe this would be true if we just gave poor and uneducated people blank checks…
Isn't it natural to pass wealth to children? How can any "system" stop natural behavior?
The purpose of every social system is to convert destructive natural behavior into productive artificial…
Doesn't a millionaire inheritance tax infringe on the freedom of millionaires to do what they please with their wealth?
Real freedom is the opportunity for every child to develop his or her talents; when…
If we want better government, why don't we just vote for better schools, honest media, more effective healthcare, etc.?
The simple fact is, we don't have the power to vote for these things. Even…