Tag Archives: blaming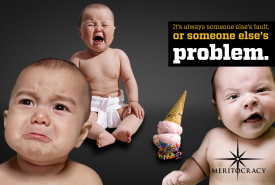 … but just the sweetest things when there's attention to be had.
Meritocracy Newsletter
Organizing locally and worldwide. Don't miss out on activism in your area!
FAQ
Won't preventing inheritance undermine people's work ethic when parents are no longer able to save up for their kids?
The threat of your kids being disadvantaged might motivate you to work, but this kind…
Doesn't Meritocracy violate the sanctity of the free market?
There is no free market. The markets are completely captured—dominated by cartels of one sort…
Does Meritocracy care about equal representation?
The issue here is how you define equal representation. Meritocracy achieves equal representation where democracy…
Won't redistributing wealth to the poor perpetuate their poor use of resources?
Maybe this would be true if we just gave poor and uneducated people blank checks…
Won't getting rid of all government solve our problems?
Without government, there is only one law: the Law of the Jungle. The Law of…
Doesn't government always make things worse?
The freedoms we currently enjoy came about because good people stood up and created better…
Isn't it inevitable that the super-rich will ruin Meritocracy like they ruined democracy?
Over the long course of history, power has been transferred away from the dictators and…
What about big government? Is Meritocracy going to shrink government?
No system is so simple that "just shrinking it" will automatically fix social issues. Fixing…
Isn't Meritocracy undemocratic?
Democracy has failed to achieve the social goals that we all want. Democracy was an…
Erbschaftsteuer FAQ (DE)
Ist es nicht meine Sache, zu entscheiden, was mit meinem Vermögen geschieht? 1100 Milliardäre besitzen…
The Soviet Union tried this, and it didn't work.
The Soviets tried something completely different that has no relation to 100% inheritance tax. 100%…
Isn't love the answer? If we spread the power of love, won't that convince people to stop hoarding?
Humans tend to hoard because we worry about our families. If you do not hoard,…
Can't unscrupulous parents just give wealth to their kids before death, avoiding the Millionaire Estate Tax? How will Meritocracy handle legal loopholes?
Loopholes can be closed. It should be a crime for one family to accumulate dangerous…
What about when a spouse dies? Are you going to kick the family out of the house?
Is this another one of those situations where the husband owns 100% of the family's…
Isn't giving people free housing, education, and healthcare communist?
Communists also wore hats, ate sausage, and used cutlery. Does that make hats, sausages, and…
Isn't it my choice to determine how I dispose of my assets?
1,100 billionaires have double the assets of the world's poorest 2.5 billion people. The vast…
How does Meritocracy differ from all the other utopian schemes that were dangerous and harmful?
Charlatans use the promise of utopia to fool people. But Meritocracy is not a utopian…
What if I want to pass my business on to my son whom I've trained from birth to run it?
What system would you design to find the most meritorious CEO to replace you? Why…