Tag Archives: leaked swiss data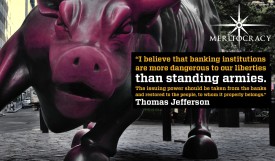 Super rich global capitalists live above the law. And then there's the rest of us.
Meritocracy Newsletter
Organizing locally and worldwide. Don't miss out on activism in your area!
FAQ
Won't Meritocrats just abuse their power and screw over the rest of society the way politicians and CEOs currently do?
If a particular expert abuses his position, the other people in his field will instantly…
Don't you think innovators like Henry Ford, Steve Jobs, and Thomas Edison earned their fortunes?
They did earn their wealth, but then they died. Their kids didn't earn anything. Is…
Erbschaftsteuer FAQ (DE)
Ist es nicht meine Sache, zu entscheiden, was mit meinem Vermögen geschieht? 1100 Milliardäre besitzen…
Won't getting rid of all government solve our problems?
Without government, there is only one law: the Law of the Jungle. The Law of…
Isn't this just totalitarianism? 100% Inheritance tax infringes on my freedom.
When it comes to freedom and liberty there are two versions. There is on the…
Doesn't democracy use the wisdom of crowds to organically pick the best leaders?
The "wisdom of crowds" has debunked itself. The wisdom of crowds has brought us failure…
Doesn't Meritocracy violate the sanctity of the free market?
There is no free market. The markets are completely captured—dominated by cartels of one sort…
Can't unscrupulous parents just give wealth to their kids before death, avoiding the inheritance tax? How will meritocracy handle legal loopholes?
Loopholes can be closed. It should be a crime for one family to accumulate dangerous…
Why do you think throwing money at education will improve it?
Research has exposed the classroom system as archaic; the school system has failed to adapt…
Isn't government corrupt, inept, and inefficient, and would it not therefore fail to put my hard-earned assets to good use?
One must remember that the Millionaire Death Tax and 100% Inheritance Tax are not stand-alone…
Does Meritocracy care about equal representation?
The issue here is how you define equal representation. Meritocracy achieves equal representation where democracy…
My grandfather passed down his farm to us; are you saying 100% inheritance tax would take this away from our family?
Did your grandfather own 100% of the farm? What about your grandmother? What about your…
What would happen to a large business if the person who created it died suddenly? Who would become the owner if there were no spouse or children? Would the state be able to own businesses?
Bear in mind that most truly large businesses are corporations owned by shareholders. The death…
Won't ending environmental destruction harm the economy?
What kind of sick society considers destroying the earth good for the economy? Can you…
Isn't it inevitable that the super-rich will ruin Meritocracy like they ruined democracy?
Over the long course of history, power has been transferred away from the dictators and…
Didn't economists cause the 2008 financial crisis? Won't Meritocracy just put the country in the hands of fraudulent experts like this?
The frauds who caused the 2008 crisis were not meritorious experts; they were privileged cronies…
If my inheritors don't deserve the inheritance, then why should anyone else (society, government)?
Meritocracy is about what you can do, not what people can do for you. Society deserves your…
What if I want to pass my business on to my son whom I've trained from birth to run it?
What system would you design to find the most meritorious CEO to replace you? Why…