Tag Archives: Bush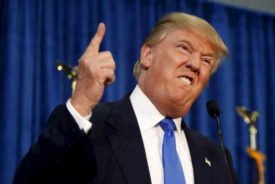 … the most revolutionary president in history.
Meritocracy Newsletter
Organizing locally and worldwide. Don't miss out on activism in your area!
FAQ
Isn't it a parent's responsibility and natural instinct to leave as much wealth and possessions to their children as they can?
"[If you are asking this question,] then you are plainly not a meritocrat. The Society…
If my inheritors don't deserve the inheritance, then why should anyone else (society, government)?
Meritocracy is about what you can do, not what people can do for you. Society deserves your…
Won't preventing inheritance undermine people's work ethic when parents are no longer able to save up for their kids?
The threat of your kids being disadvantaged might motivate you to work, but this kind…
Didn't economists cause the 2008 financial crisis? Won't Meritocracy just put the country in the hands of fraudulent experts like this?
The frauds who caused the 2008 crisis were not meritorious experts; they were privileged cronies…
Impuesto de sucesiones FAQ (ES)
¿No es mi elección determinar cómo disponer de mis bienes? 1,100 multimillonarios poseen el doble…
Doesn't a millionaire inheritance tax infringe on the freedom of millionaires to do what they please with their wealth?
Real freedom is the opportunity for every child to develop his or her talents; when…
Erbschaftsteuer FAQ (DE)
Ist es nicht meine Sache, zu entscheiden, was mit meinem Vermögen geschieht? 1100 Milliardäre besitzen…
Can't unscrupulous parents just give wealth to their kids before death, avoiding the Millionaire Estate Tax? How will Meritocracy handle legal loopholes?
Loopholes can be closed. It should be a crime for one family to accumulate dangerous…
Isn't this just totalitarianism? 100% Inheritance tax infringes on my freedom.
When it comes to freedom and liberty there are two versions. There is on the…
The Soviet Union tried this, and it didn't work.
The Soviets tried something completely different that has no relation to 100% inheritance tax. 100%…
Imposto sobre herança FAQ (PT)
Não me cabe a mim determinar a utilização dos meus recursos? 1100 bilionários possuem o…
Isn't government corrupt, inept, and inefficient, and would it not therefore fail to put my hard-earned assets to good use?
One must remember that the Millionaire Death Tax and 100% Inheritance Tax are not stand-alone…
Why should I have to pay for the kids of failed parents?
In a community based on equal opportunities, no family would show disrespect to other families…
What about when a spouse dies? Are you going to kick the family out of the house?
Is this another one of those situations where the husband owns 100% of the family's…
Doesn't Meritocracy assume that many more people have "the right stuff" to be leaders?
True leadership doesn't come from being born with a silver spoon in your mouth. A…
Most family fortunes were not earned through contributions to society, but don't you still think it is immoral to seize their wealth?
If someone builds a hoard by screwing people over, he hasn't earned anything. It is…
Meritocracia FAQ (ES)
¿No son los Meritorios quienes ya dirigen a la sociedad? Los Políticos no tienen mérito…
Why do you think throwing money at education will improve it?
Research has exposed the classroom system as archaic; the school system has failed to adapt…